Product Description
Shenyang EO Valve Co., Ltd. is a leading manufacturer of worm wheel flange concentric butterfly valves, manufacturers and suppliers, as a professional company, we have a productive factory, to provide you with good prices and services.
Product Details
Worm Flange Butterfly Valve, also known as the worm flanges flap valve, it is a simple structure of the control valve, but also for low-pressure pipeline media switch control.
Shenyang EO Valve Co.,Ltd is a leading China worm wheel flange type concentric butterfly valve, valve butterfly manufacturer and supplier, and as a professional company, we have productive factory to offer you good price and service.
Product application
Worm gear flange valve for the furnace, gas, natural gas, liquefied petroleum gas, city gas, hot and cold air, chemical smelting and power generation environmental protection and other engineering systems to transport a variety of corrosive, non-corrosive fluid medium on the pipeline, for Adjust and cut off the flow of media.
WORM WHEEL FLANGE TYPE CONCENTRIC BUTTERFLY VALVE
Product Standards
1. DESIGN AND MANUFACTURE: API 609
2. FACE TO FACE DIMENSIONS: API 609
3. FLANGE ENDS DIMENSIONS: NPS1/2"~24": ASME B16.5
4. PRESSURE-TEMPEARTURE RATINGS: ASME B16.34
5. PRESSURE: CLASS 150
6. SIZE: NPS 2″~16″ 
Product Advantage
1.Professional: We are professional manufacturer of valves.Ensure our valves is quality controlled and reliable.
2.Quality Control: We have been engaged in valve design for 20 years and can guarantee best quality
3.Experienced Sales Team: Our sales team is experienced, and they all know our product well.
4.About Price: we provide very reasonable and competitive price for you
PACKAGING & DELIVERY
1.Packaging details : electric actuated butterfly valve: the strong plywood cases or as per the customer's request.
2.Delivery details : 4-5 weeks after receipt of down payment by T/T
3.Payment:T/T, L/C, Western Union and PayPal
Related Products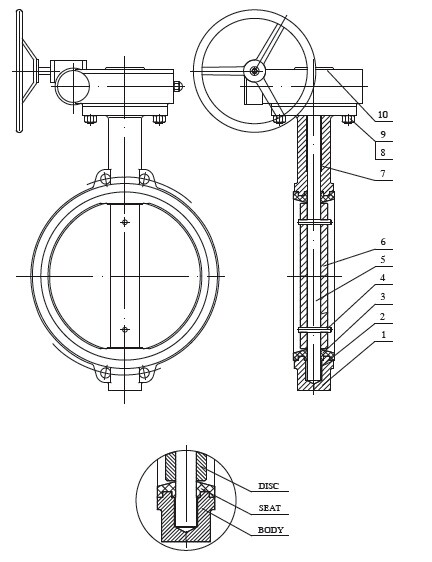 http://www.eovalve.com/